WHY USE GOAT'S MILK SOAP?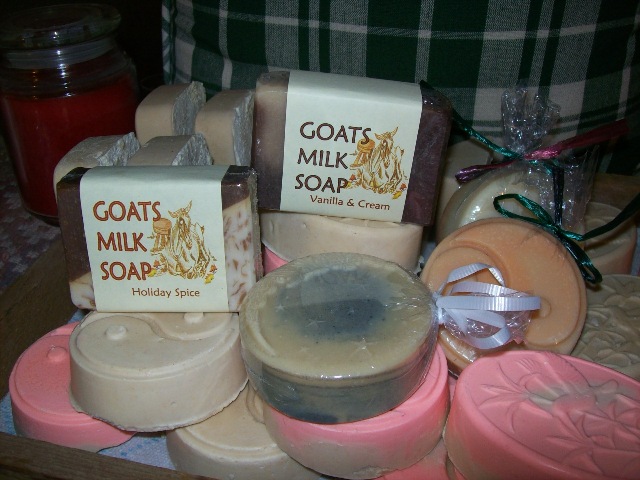 Goat's milk has been used as a natural beauty product for centuries, dating back to early Egyptian times.
Today, we know that goat's milk is rich in proteins, vitamins, and minerals. Goat Milk contains over 50 nutrients, including the vital vitamins of A, C, B1, B6, B12 and E, minerals, citric acid, amino acids, unsaturated fatty acids, enzymes, and a variety of other nutrients that nourish and revitalize dehydrated skin. Vitamin A slows down the effects of aging, prevents brown spots and thickening of the skin, while Zinc contributes to the reconstruction of collagen fibers, encouraging moisture retention and assisting in maintaining your skin's elasticity.
The natural ingredients found in goat's milk enhances its natural softening properties. The low pH in the milk when mixed into soap makes a wonderful beauty bar that is closer to your own skin's natural pH level. This means that persons with delicate skin can trust a goat's milk soap. Doctors have recommended using goat's milk soap for those who suffer from acne, eczema, psoriasis, rashes, and sun burn. Goat's milk does not leave your skin feeling dry or irritated, it leaves you feeling naturally clean and smooth.
All soaps are made through the cold process method and are vegetable oil based. This gives a soap that is very high in glycerin, which is wonderful for your skin!
Our soaps are made in small batches, hand cut and include generous amounts of Goat's Milk, Coconut Oil, Olive Oil, and Palm Oil.
We only use farm fresh and/or pasteurized goat milk in our soaps. We do not use peanut oil or animal fats in our soaps.
The art of a great handmade soap is patience. Therefore, we allow our bars to cure/dry at least 6 to 8 weeks which doubles the life of your soap.